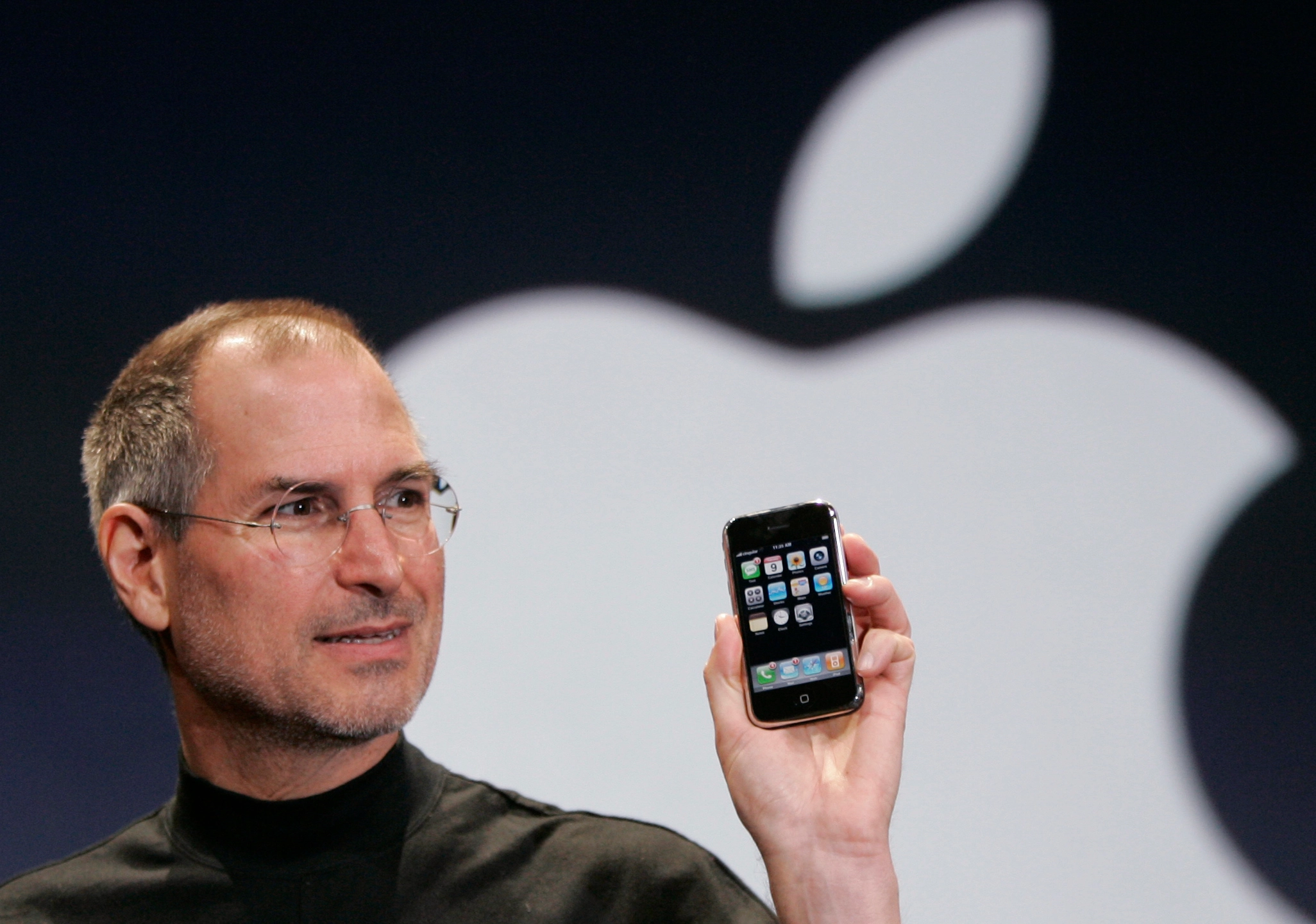 On Sunday, an auction witnessed the sale of a pristine, untouched first-generation Apple iPhone from 2007, fetching a staggering $190,372. This remarkable amount sets a new record for the highest price ever paid for an iPhone at auction, surpassing its original retail value by over 300 times.
The iPhone in question belonged to the inaugural edition, still enclosed in its original factory packaging and had never been used or set up. It outshone the previous auction records set in October and February, which saw 8GB models sell for $39,339 and $63,356 respectively. Bidding for this extraordinary rarity began at $10,000, further emphasizing its exclusivity and desirability.
This particular model of iPhone is extremely difficult to find which brought on the insanely high price. As LCD Auctions explained, "The original 4GB model is considered a 'Holy Grail' amongst iPhone collectors. Its extreme scarcity is directly related to its limited production."
In June 2007, Apple cofounder Steve Jobs introduced the 4GB model of the iPhone, which was released for sale alongside the 8GB version. This particular model carried an initial retail price of $499.
???? BREAKING NEWS ????

A sealed 1st Release Apple iPhone (4GB) just sold at auction for $190,373.

This is a new all-time record for any iPhone by over $100k.

Bought on 6/29/07: $499
Sold on 7/16/23: $190,373

Hold time: 16 years
Profit: +$189,874 (+38,050.90%)

Over the same… pic.twitter.com/w5eYicvdk7

— The Collectibles Guru ???? (@ericwhiteback) July 16, 2023
During that period, the majority of iPhone purchasers chose to invest an additional $100 to double their phone's storage capacity, despite the 4GB version experiencing a price reduction by one-third. However, due to sluggish sales of the 4GB iPhone model, Apple ultimately decided to halt its production in early September 2007.
In 2007, Apple's iPhone earned the prestigious title of TIME Magazine's Invention of the Year. This recognition turned out to be prophetic, as the iPhone went on to revolutionize mobile phone technology, playing a pivotal role in establishing smartphones as an omnipresent aspect of 21st-century life.
Presently, the most recent version of the iPhone, referred to as the iPhone 14, is available for purchase with a starting price of $799.
Auction sites frequently feature scarce collectibles associated with Apple and Steve Jobs. For instance, a prototype edition of the Apple-1 Computer, crafted in the 1970s, was sold for a remarkable sum of over $677,000 in the previous year. Additionally, in 2011, the founding documents of Apple, bearing the signatures of Jobs, Steve Wozniak, and Ronald Wayne, fetched approximately $1.6 million at auction.
Trending Political News
Ford Recall Impacts 1 Million Trucks That Are Missing Something
Ford has announced a recall on 979,797 trucks due to an oversight in the owner's manuals.
The owner's manuals accompanying certain 2018-2023 Ford Expedition and Lincoln Navigator SUVs with third-row seating, alongside 2019-2023 regular cab F-Series Super Duty F-250, F-350, F-450, F-550, and F-600 SuperCab trucks with three-passenger front bench seats, have been found to lack "instructions for adjusting or removing certain head restraints," a requirement stipulated by federal regulations.
Continue reading…
Kim Kardashian Gets Shamed After Posting Extremely Revealing Bikini Photos on Instagram
Kim Kardashian's recent Instagram post featuring a sultry series of three selfies in a revealing black bikini top, along with her trademark duck face, has attracted a barrage of negative comments. The founder of SKIMS has been roasted by her followers in the comments section.
She accompanied her photo with the short and sweet caption, "Hey."
Continue reading…
Another Costco Item Goes Viral, Sparking Debate Among Shoppers
Costco Wholesale might be renowned for its vast range of bulk-buy groceries, yet the membership-based warehouse club's offerings extend well beyond edibles and pantry staples.
Recently, a sectional sofa from Costco, complete with a pull-out sleeper and a storage section, has caught the attention of social media users, inciting both adulation and controversy.
Continue reading…
Samuel Jackson Claims Donald Trump 'Broke' His Marvel Co-Star
Samuel L. Jackson, the esteemed actor, shared that his Marvel co-star Brie Larson was deeply affected by the 2016 election of President Trump during their time on set.
While speaking to Rolling Stone, the "Captain Marvel" star and celebrated figure of Hollywood relayed that he had to motivate Larson in the midst of the political turbulence which left several Hollywood liberals distressed.
Continue reading…
Reporter Corrects White House Press Secretary Directly to Her Face
During a press briefing at the White House, a reporter corrected the White House Press Secretary, Karine Jean-Pierre, regarding the facts of a school shooting that occurred in Nashville, Tennessee, doing so directly in front of her.
According to the police, on Monday, an active shooter, identified as a 28-year-old female, entered Covenant School through a side door and killed three children and three adults. The suspect was confronted by the police on the second floor of the building and was subsequently shot and killed.
Continue reading…
Salma Hayek Leaves Little to the Imagination on 'National Bikini Day'
Salma Hayek is turning up the heat this summer.
The radiant 56-year-old showcased her charm in a swimsuit, marking National Bikini Day with her latest enticing snapshot.
Continue reading…